Alfie is a 5 year old Lurcher boy who has come into our care via one of our vets, he was found running the streets in a blind panic, he eventually collapsed out of exhaustion in someone's garden so one of our local vets went out to get him. He has now been neutered, microchipped, vaccinated including Kennel Cough and has been health checked and had a dental, he is underweight but slowly putting weight on.
Alfie is a sweetheart! He is loving, affectionate and very playful too, he loves to run around and enjoys cuddles and strokes. Alfie has an amazing coat, a gorgeous white/cream with a grey layer. As we don't know his history we'd prefer not to rehome him with cats/small furries. He is fine with other dogs.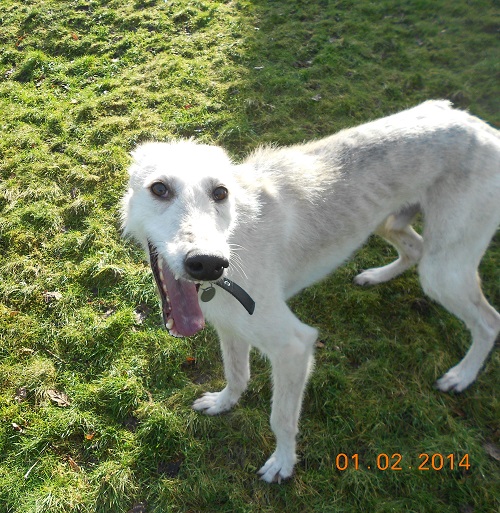 We are sure all you Sighthound lovers out there will not want to ignore this beautiful boy! He's stolen our hearts and we have no doubt he'll steal yours too! Alfie is beautiful inside and out.