Lovely Fliss was rescued from Spain 8 months ago. She has an unknown history but was found literally more or less starved to death. I do have pictures of her when first found but have not put up as too distressing. Starfish offered to bring her back to UK and find her a forever home. I am being as honest as I can here about Fliss but trying not to upset the family who gave her back to rescue. This write up has to be as honest as possible to help find Fliss the right home and it has to be about her not anyone else and we have to give the truth as to why she came back into rescue after 8 months in a foster home.
Fliss was homed straight away to a young couple where she remained for the last 8 months, we received many updates and she was very obviously loved and cared for – we also received videos, I know this couple really loved Fliss. As time went on as Fliss progressed, there was a few problems nothing unusual in rescue dog from her background and she seem to fitting in well and even recently went on holiday to Cornwall. One of our volunteers stayed in regular contact and often visited and again no concerns. We had to take Fliss back into rescue nearly 3 weeks ago, I have not spoken to her owner only the owners mother and sister by email but we were given 5 days as things were so bad.
Fliss was brought back because she had apparently developed separation anxiety among other problems and the lady was unable even to walk to the bins without Fliss going out of control and was unable to leave the house and spends every second of every day watching her and trying to deal with her many issues. We were told they were deep rooted and spiralling out of control. There was lots more about not being able to put her harness on and walk her. This email came as a massive shock to us and shook us all up how quickly they wanted her out and the dog they were describing was actually unhomable. We were given days 6 days to sort something out as things had become desperate Because one of our volunteers had stayed in touch with the owner and had often visited we really struggled with this description of Fliss but at this point unfortunately I had not spoken to the owner.
I have given you all this information because its the truth and its something as a rescue we do give. We have managed to find a lovely foster home for Fliss living with other dogs. We now have a progress report which is very very different to the Fliss described above, I do have my own theory on what has happened and what has gone on judging on how Fliss is settling in her foster home – yes its an experienced foster home but Kath like myself is not a behaviorist have just been around dogs all our lives and have a practical straight forward nature approach with dogs – nothing too deep just common sense.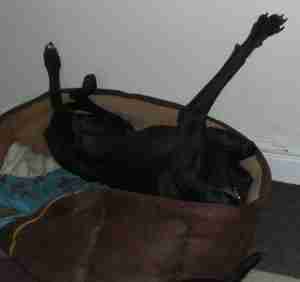 The home we get for Fliss next has to be her forever home, she has had a terrible start to live in Spain and has now come to the UK, things have not worked out in her first home so she needs this next home to be for keeps, experienced home with lots of love, walks, she would love a big garden to tear around in, she does like gardening and likes to replant flowers play tug of war with bushes and try to dig to Australia. So if your garden is your pride and joy Fliss may not be for you. She is nothing like the dog described above, she is not the most straight forward but most people and dogs are never are but she loves people, she loves other dogs, she has the most wonderful sense of humour. Above in one of the pictures is a sheep that was brought for her at the dog show and that is her saying that is fine give it now. She has the two main qualities that all Starfish Dogs have is a lovely temperament – she just needs someone who will be able to give her the exercise she needs, the guidance she needs but forever until the end of her life please otherwise leave her where she is – her foster home have said they will keep her as long as it takes, they would love to keep her but there are too many Fliss's that need their help as stepping stones to a new life – there report is below…
Excellent with dogs in the home, very tolerant. Loves to play but will take a telling off from the others when she gets carried away. She's a submissive dog but has a cheeky side and will happily take a toy from another dog's mouth if it's the once she wants. She's happy for the others to sleep in her bed: it did cause problems initially because I think it was the only place she felt safe enough to settle. Now she really isn't bothered and will happily take the sofa over her bed. Out and about she meets new dogs politely, sometimes is initially a little shy, but if she thinks they're up for a game she's happy to oblige. She's walked happily alongside 3 dogs she'd only just met with no problems. Fliss hasn't come into close contact with any cats but has seen them in gardens and does appear very interested in chasing.
Definitely a work in progress, LOL. Lead walking around the village is much improved and she barely circles on lead any more. I use "wait," "cross," "this way" and "steady," seems to help. Country lanes are fine, she's allowed to minesweep as I call it, and only pulls to go from smell to smell. Saturday – at the dog show – was a nightmare for circling and pulling to be honest, but I think that was a combination of excitement and baptism of fire. She's improved massively since she's been here and is very eager to please, she just needs a committed owner to work with her. Fliss has had no recall training whatsoever and any new owner would need to be prepared to exercise her daily on a long line whilst working on this.
Fliss can be very excitable around food but will now settle on the towel by the kitchen door when food is being prepared, though I wouldn't leave the room with any food lying around! She's currently being fed by bowl, stuffed Kongs and a Kong Wobbler. She's been back on once daily bowl fields for the last week or so, I figured not every owner wants to stuff Kongs, LOL – and she's fine. I could dispense with the Kongs altogether, but she enjoys them so much it seems a shame to stop.
Great with people, she hasn't been around kids in the home but she was fabulous at the show, and has been whilst out and about on walks. Likes to play with her toys but is still learning self-control and needs to be told "wait" when you pick up a toy otherwise you could find your hand grabbed by accident. I use "wait" for most things, and "OK" as a release she's doing well. Oh, she can be very vocal when she's playing and does like to be busy: she may hunt and chase flies in the garden, throw her own toys around or play tug with dog blankets, but nothing that any other healthy and happy 2 year old wouldn't do. She's been left daily, confined to one room behind a baby gate with other dogs for company, probably for an hour at most, and the neighbour hasn't heard a peep out of her. Neighbour would have said, believe me, so I think she'd be fine for a few hours. Quiet overnight, Fliss will need an owner who realises random and occasional fastening behind a baby gate whilst they have a shower, put the laundry away or whatever will not hurt her.
No full time workers, even with a dog walker coming in or neighbours letting her out for toilet breaks, she'd struggle. A home with another dog that likes to play would be perfect; Fliss would cope without, providing she had lots of doggy friends to meet up and play with, but she does take a lot of cues in doggy behaviour from our lot which have helped her to chill out and learn what being a dog is all about.