December 5th, 2012
This is Katy. She is an 18 month old Boxer Cross American Bull Dog. A Stunning girl, that has a large smile when she is pleased to see you. Beautiful in looks, as well as temperament. Katy came to rescue as her previous owners had a baby. The previous owners then later, tried to claim her back, months after the baby was born. Now, this dear girl is living in rescue, with a toddler, 4 year old and a 9 year old. She is fantastic with the children, and loves to lick them. However, she does have a tail that waggles with force, and is enough to cause discomfort. Katy would suit a family with children over 8 years old.
Fantastic with the all 16 dogs that she is living with (Chihuahuas to English Mastiffs). There are also 5 cats, and she is alot better with them. A dog confident cat would be better suited. Good on the lead, if you manage her with rules. If not, she will pull. This girl is extremley poweful, and requires somebody with good large breed experience. Very clean in the house, toilet trained, good with her food and treats, no aggression issues at all. She will sit down and rest, after a good workout (a good off-lead run), but if you make eye contact with her, she will come over to you for a fuss of affection. Very, very loving, and loves to be stroked and cuddled.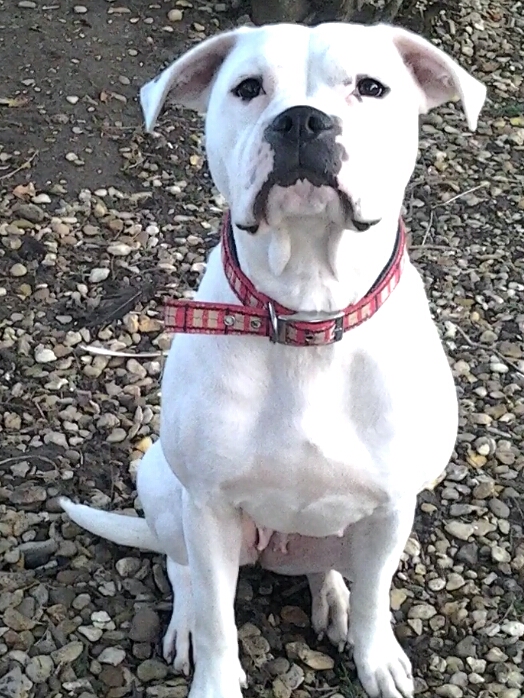 Even the toddler sits with her, and she's happy to stay there all day, or at least until the toddler gets board and walks off. This girl could also live with another dog, as she loves to play every chance she gets. Human or canine, this girl doesn't mind.
If you have the experience, time and the open space for a bundle of muscle love, please get in touch. Large breed experience essential.