Alfie is a 17 month old male Staffordshire Bull Terrier, fostered in Gloucestershire in adult family home with another dog and visiting family and children.
GREAT NEWS! This Dog Has Now Been Rehomed
Thanks to good people like yourself who use dogsblog.com on a daily basis, this dog has now found a new, permanent loving home. There are more dogs still looking though…

Allow us to find your new

PERFECT

canine friend with our

dogsblog.com matchmaker service

. Enter your details below to receive a tailored, hand-picked list of available dogs for adoption…
Alf as he is known came into our care after his family due to work commitments were unable to keep him anymore as he was not coping being left so long on his own and was not ideal for him being left with various people.
Alf's previous owner was a lovely lady who wanted to do the right thing by Alf and she waited a month for a month a place to come up with us. He had previous lived in a family home with a 10-year-old child, he was used to staying at different people's houses and also day boarding with other dogs.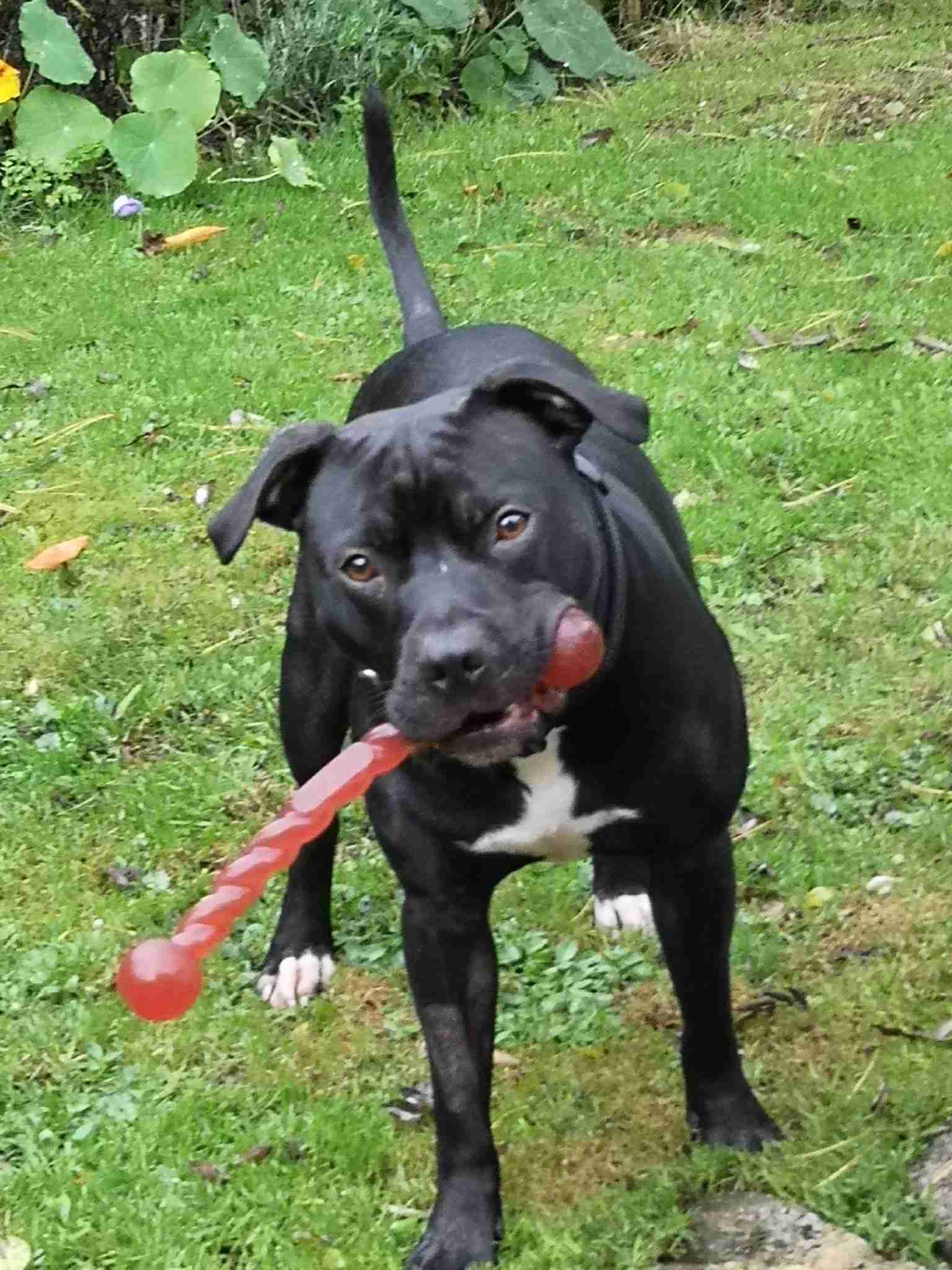 I first met Alf for an assessment in our local wood, his owner was not confident letting him off but he is used to off lead walks with her partner. We let him off and he loved chasing after the squirrels, there were a lot of people and dogs around and he did go over and say hello but soon joined us again on the walk.
After seeing what a lovely friendly boy he was we agreed to take him into care.
Since joining his foster family to begin with he was unsettled and not very secure, he had to sleep upstairs at night as he howled the place down, he also did not like being left – I think all the uncertainty of recent months having different people look after him none of this behaviour was a surprise.
Alf has progressed every day since then, he is now sleeping downstairs and has been left for short periods of 1 1/2 and when they have returned its all quiet. He is clean in the house and does not chew.
Alf is quite a strong boy on the lead, his foster carers are working on this and he is improving. Out on walks he is very good off the lead as long as no distractions, but if he sees a dog he goes deaf and is off to say hello, we are working on this but this will probably be an ongoing training point with his new owner, although friendly with other dogs not all dogs are friendly as we know and do not appreciate a ball of fun pitching up to them.
If on the lead he is pretty good at ignoring other dogs. He also travels well. He is living with another dog a 6-year-old bitch who he adores probably a bit too much and loves to get her to play which is fine but she does not want to all the time, so they have to give Tia time out she does tell off but he is not very good at listening.
He has met this family's granddaughter who is only 3ish so only a little tot – he loved her but if had not have been on the lead I think she would have gone flying like a skittle with his enthusiasm but he did eventually calm down. He loves people and we are working on him jumping up at them with Staffordshire Bull Terrier bull in a China shop joy !!!
So that is Alf a lovely boy, easy to live with in the house but he does need someone who has the time to put into him outside the house and visitors – a lot of his behaviour is typical Staff we know but it could also be lot better. He is a great dog and will be an amazing dog with the right owners.
Not sure about him living with another dog because of him wanting to play all the time but that is not set in stone, no young children for the reasons given above and if we home him with a family it has to be dog savvy children.
Because of his strength he has at times you need to be capable of holding him, someone who has experienced in dog training, access to lovely walks for him to run free as he loves his walks and excellent recall if no distractions, I think if you lived in a busy place then it would be difficult to let him off at times because of him wanting to greet every dog he could get himself in trouble until his recall comes together.
Alf would not cope being left for hours on his own this sort of home will not suit him.
If you feel you could be the right home for this lovely boy, please email us for our questionnaire in the first instance we are then happy to pass you on to his foster family to talk in more depth.