Hello everyone! My name is Bella, an 11 year old female Staffordshire Bull Terrier. I have been spayed, microchipped and vaccinated. I am a 'true' Staffy: a lively girl, despite my age, and I am filled with boundless love to give to every single human that I meet! However, I do need a particular home so please read the criteria below before falling in love with me too much!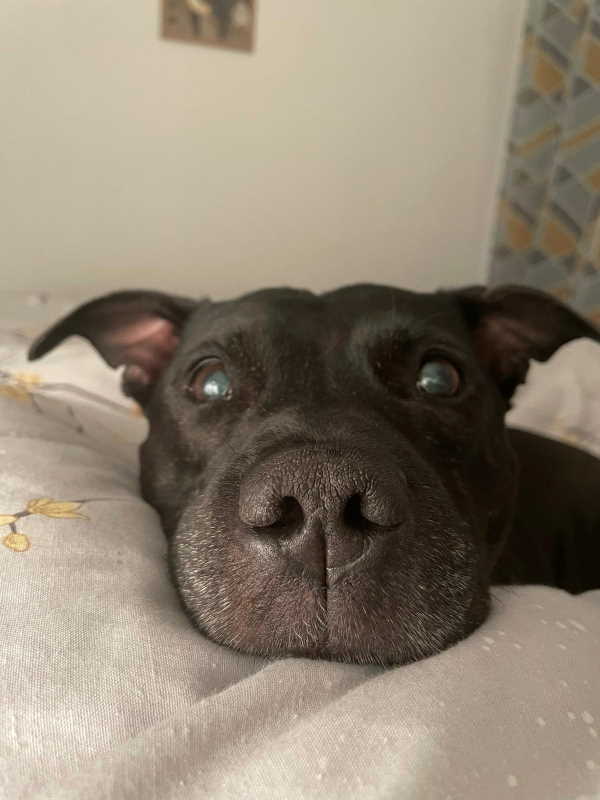 I absolutely cannot live with any other animals, including dogs. I would like to live in a location where I can be walked in quiet areas without the pressures of other dogs around me. Ideally, I would like to live with someone who has experience of managing dogs who do not like other dogs. I can live with children 12+.
Unfortunately, as the criteria reads, I hate other dogs. As a poundie, it is unknown what my past experiences with other dogs have been like. However, suffice it to say that my background has had a big impact on me and I cannot live with other dogs (or even socialise nicely with them).
Therefore, I will need an owner who is not only experienced at handling a dog who is uncomfortable with other dogs, but is prepared not to bring other dogs into my world. We know this is a big ask, especially as many people have family members or friends who also have dogs, but this criteria is absolutely essential for everyone's safety.
Whilst I intensely dislike other dogs, I absolutely LOVE people, especially men!! If anyone wants to say "Hello" to me, I'm ready to put on my waggiest tail and make you feel like my best mate!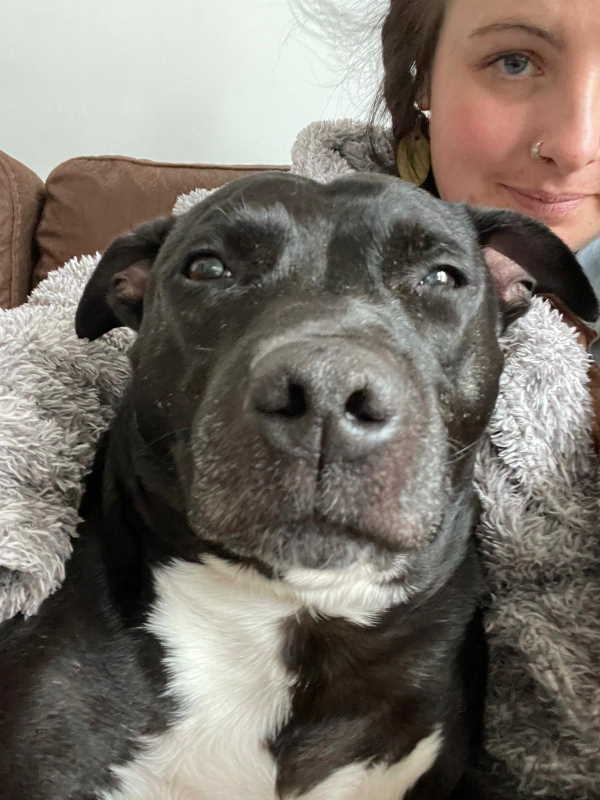 If you come into my house, I'm ready to lay the red carpet out and give you the full VIP treatment (and the more of you, the better: I can never have enough friends!!). I have not really met any children because there are not many within my foster family's circle. However, my foster family think that I would be absolutely fine with children aged 12+.
I am walked in very quiet locations due to my dislike of other dogs. I walk well on a flexi-lead. I am let off-lead for short periods when there is no sign of any other dogs and my recall is excellent. The only thing that delays me is that I am partially blind and cannot always find you straight away. However, I do aim to come back as soon as you call me!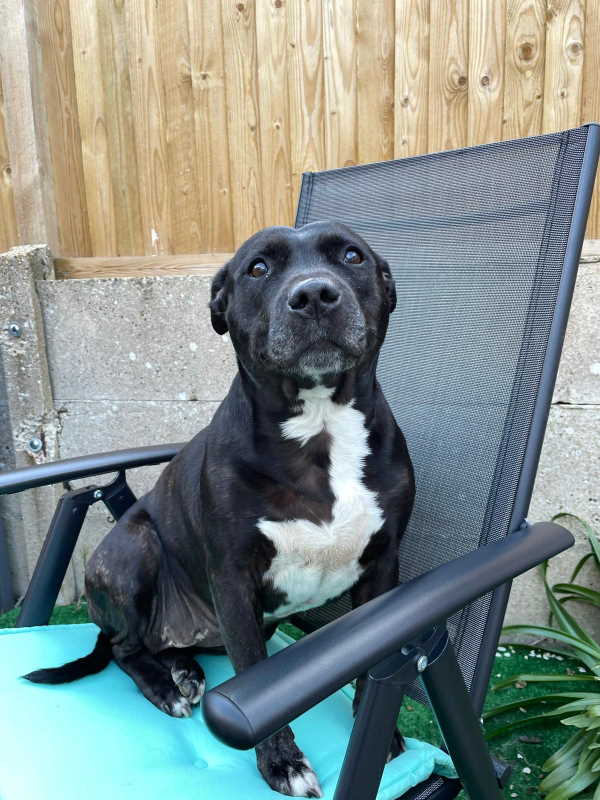 My rescue friends think that I would be safer on-lead in public at all times though and let off in secure locations only (like an enclosed paddock). My foster family have been trying to muzzle train me but at the moment, I am not keen and keep trying to take it off. Therefore, whilst there is ongoing work to get me used to it, it would be advisable that I wear colour-coded apparel in public (like a red 'caution' or orange 'no dogs' lead/vest).
I have absolutely no separation anxiety whatsoever and can be left for several hours without even moving from my spot on the sofa! I have no destructive tendencies at all and am fully house-trained. In fact, my foster mummy says that if you are a little late getting up, don't worry: I will still be asleep and you'll have to drag my butt off the sofa to go outside!! And please note, this is VERY IMPORTANT: I must be allowed to sleep in your bed, in another bed or on a sofa: I don't 'do' dog beds (unless I'm using them as a table to eat a snack off!). If you do not want me on your FURniture, please do not apply! ?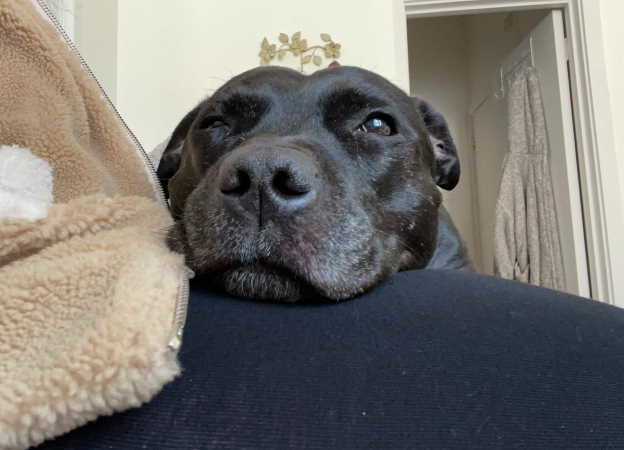 As mentioned earlier, I do have partial blindness but this does not stop me and I am still a happy, loving Staffy soul! However, any new owner should take into account that my sight will deteriorate as time goes on, so it is worth looking into whether you can appropriately manage canine blindness (here is a useful bit of starter reading on the subject https://www.pdsa.org.uk/taking-care-of-your-pet/looking-after-your-pet/all-pets/caring-for-blind-pets). Apart from the blindness, I have a little lump which has been checked out by the vet and confirmed as a lipoma (very common in older dogs).
Therefore, whilst I am not a social girl with my own species, I am enamoured with people! If you are prepared to make me the centre of your world, you will be the centre of my world in return.
If you think that you can give me the right type of home for my needs, please email my mates at SEDR to request an application form.
Lots and lots and lots of love and licks,
Bella