Berti is a handsome 4 year old medium sized cross-breed who has been searching for a new home for nearly a year now. He is a firm favourite amongst the staff and volunteers and none of us can believe that Berti is still struggling to find his new forever family.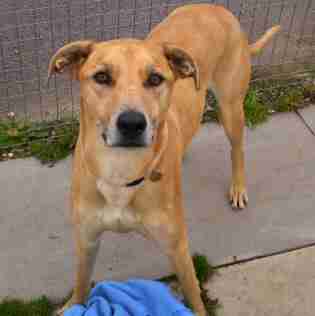 Berti has had a really rough time, before coming to Animal Aid he was kept in a dingy kennel with his food thrown at him over the top, he had no human contact or any stimulation; due to this Berti's new home must be without children and as the only pet.
On arrival to the centre Berti was half the weight he is now and very untrusting of people. After a lot of time and effort Berti has made great progress and is more than ready to get out of kennels and into a loving home. Berti is going to need an experienced new owner who is willing to put effort into working with Berti to overcome his uncertainties. Berti has so much potential he's just waiting for someone willing to put the time in to get to know him.