Hello everyone, my name is Elsie (formerly Blondie), a 12-18 month old female Lurcher. I came to SEDR as an unclaimed stray. I have proven myself to be an absolute delight and have been a firm favourite at the centre and in my foster home! I am a giddy, lively girl and still very much a puppy in a gangly body!
GREAT NEWS! This Dog Has Now Been Rehomed
Thanks to good people like yourself who use dogsblog.com on a daily basis, this dog has now found a new, permanent loving home. There are more dogs still looking though…

Allow us to find your new

PERFECT

canine friend with our

dogsblog.com matchmaker service

. Enter your details below to receive a tailored, hand-picked list of available dogs for adoption…
As I have settled into my foster home, I have proven myself to be a little bit of a nutter!! I love to jump on the sofas and I'll nick your seat (and your cuppa!) if you pop into the kitchen! I also like to jump up a bit but this is all in excitement; I just need to learn to calm down a little!
Therefore, training classes would help no end so that I can learn to focus and channel my energy more appropriately. I absolutely love people though so with a natural desire to please, I am sure to do well.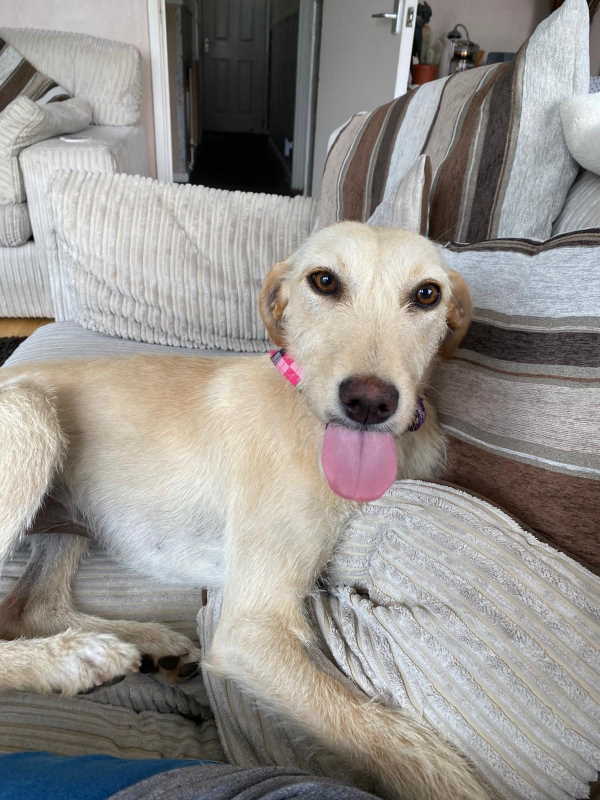 However, even though I am a bit excitable at times, I'm actually a very chilled-out girl in the home. I have barked in my foster home just the once and am not at all phased by household/outside noises.
I have been an only dog in the foster home but I did get on very well with a calm, male dog of a similar size at the rescue centre. Therefore, my friends at SEDR are prepared to consider rehoming me with another dog that has the right temperament and will not be 'in my face' all of the time.
I have met lots of dogs on walks whilst I have been on-lead and am absolutely fine with them as long as they are respectable: I do not like it when they are off-lead and get too close (even then though, I do not show any aggression; I simply try to jump and get away from them).
Therefore, my new home will be committed in trying to help me build my confidence with other dogs in these situations (although my friends at SEDR understand that some dogs just do not want to be in these situations, so this may be something that needs to be accepted by a new family).
Whilst I absolutely adore people, I would be better off rehomed with older children because of my tendency to jump up and get a bit 'in your face'. Therefore, we will only consider a home where resident and visiting children are 12+.
Whilst I have not lived with small furries, due to my breed and my tendency to try and chase the local fox, I will not be rehomed with cats or other small animals.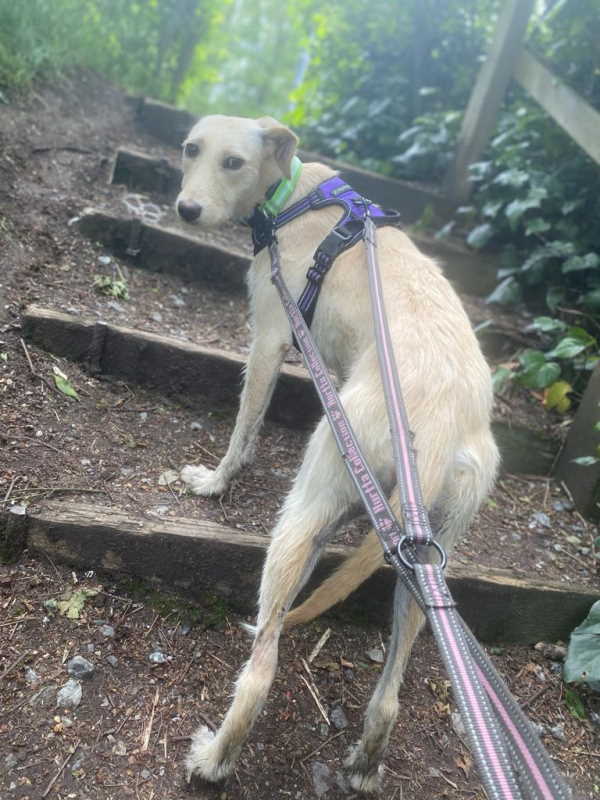 I am really good around food, have no aggression issues and although I may approach you when you're eating, I will just go and sit down if you tell me "No". I sleep very well and quietly at night and the only time I will wake you is if I need to go to the toilet.
I have not been left on my own much but my foster family recently left me alone for an hour and the house was still intact!! However, they feel that I would prefer to have a family that is around as much as possible, so if you are working from home permanently or recently retired, that would be ideal for me! SEDR will also consider applications where I will not be left for long periods of time. I do have a bit of a tendency to chew things but with regular exercise and structure, my friends at SEDR think that I will get over this easily. I do like to steal the post so if you have any bills that need getting rid of, I can bury them for you (see the next paragraph!).
I absolutely love paddling pools so it is essential that you have one ready for me! I also love to stretch out in the garden in the shade, so expect me to do a lot of chilling! I should mention that I have a tendency to do a bit of 'gardening', so if you need some holes dug up so that you can plant a rose bush (or hide your bills), I'm your girl!!
I am a very cuddly girl and need to be close to you: I like to be touching your leg whenever you are on the sofa, so if you like personal space, forget about it!!
If I do say so myself, I am a wonderful, happy-go-lucky girl and my foster family say that I am "bloody amazing" and will be an absolute asset to the right family.
If you meet my rehoming criteria and would like to offer me a paddling pool and a spot on your sofa, please fill out the rehoming form below.
Lots of tea-soaked kisses,
Elsie