Gucci is an 11 month old Husky cross Labrador girl who pretty mature dog for her age. She is gentle, engaging and a great playmate for another dog. She's been in foster for a week and she has learnt so much. Show her something once and she has got it. She learnt recall in a day (it was quite poor, staying just out of reach and also going that bit too far), she now stays quite close and is happy to go back on the lead as long as you don't make a grab for her. Her past was rather patchy, she was not house-trained and counter surfing, she has got all that under control now (in one week).
She is soft mouthed and takes food very gently. She goes to her bed and sleeps there during the day and all night, no trouble. She has learnt to ignore the Chihuahuas, they are not playmates and they let her know. She plays with the Bulldog, she doesn't play with top dog, who doesn't play. All these are nuances she has had to learnt in a week and she is respectful of them.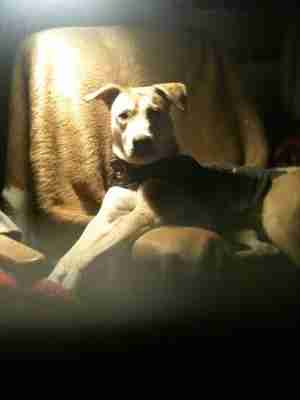 GREAT NEWS! This Dog Has Now Been Rehomed
Thanks to good people like yourself who use DogsBlog.com on a daily basis, this dog has now found a new, permanent loving home. There are more dogs still looking though…
Latest Dogs For Adoption
Find Your Dream Dog!
Allow us to find your

PERFECT

canine partner with our

DogsBlog matchmaker service

. Enter your details below for our daily dogs for adoption digest…
She is still a wee bit leash pully but can be told but needs reminding. Gucci takes an interest in a ball and will probably learn fetch. She would be good at agility for sure. She knows the word NO and obeys. She can be left for short periods and is not chewing or barking. She would love to be a second dog to a kindly playful friend.
Gucci is a confident but not an overconfident dog, loving but not in your pocket all the time. She will grow into a well balanced obedient dog. She is not too bothered by cats (we can cat test if necessary) she is not really heavily predatory, will chase a bird a couple of feet and let it go. She has proved to be very good with all dogs and has learned to read them very well.
You will need a settling in period with her and after that it is felt that she will be able to be left for up to 3 hours or so. She is still a pup so not to be left for long. She will need off leash daily of one hour. Gucci has just had a season and will need spaying in 3 months.
For further details please contact Animal Action Trust Essex on 01277 634406.