Meet Kinder, a large size 2-3 year old male Ibizan Hound (Podenco) Cross, who is currently in Crawley RH10 (UK). He came over from Spain to the UK as a puppy, and has lived in a home ever since. Now, sadly due to circumstances totally unrelated to him, Kinder finds himself in need of a new home.
GREAT NEWS! This Dog Has Now Been Rehomed
Thanks to good people like yourself who use dogsblog.com on a daily basis, this dog has now found a new, permanent loving home. There are more dogs still looking though…

Allow us to find your new

PERFECT

canine friend with our

dogsblog.com matchmaker service

. Enter your details below to receive a tailored, hand-picked list of available dogs for adoption…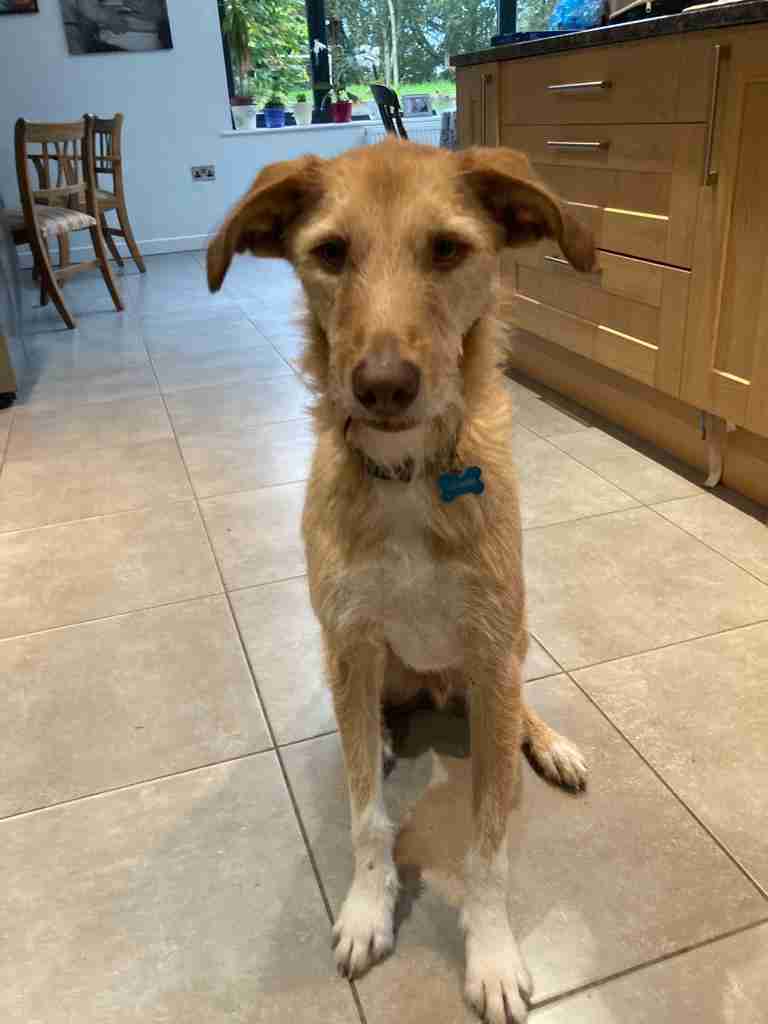 The weeks are passing and we just don't understand how our beautiful bearded boy is still waiting! Kinder is extremely loving and social with people. He adores a cuddle and will approach for attention when he meets you. He likes leaning on his people's legs for cuddles, or curling up next to you on the sofa – and his pictures really don't do him justice- he is just so handsome!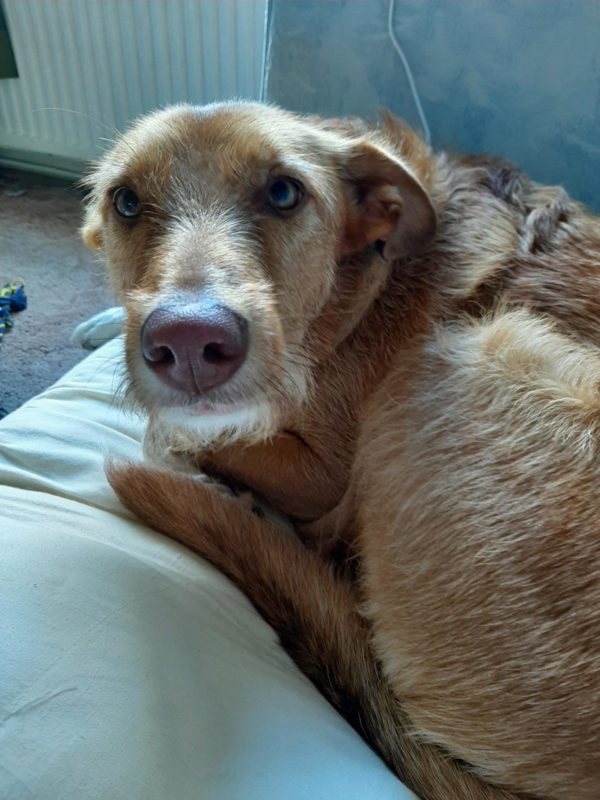 Kinder can be a nervous and insecure boy when it comes to noises and movement that he doesn't expect, probably heightened by being a sighthound mix, and this can lead to some alert barking in the home. Limiting access to the the source of the noise or movement, such as a living room window on a busy street, has been found to help, and because of this we feel he would probably be happier in a less busier and more rural or suburban environment. Reassurance has been found to settle him nicely, as he loves being around people.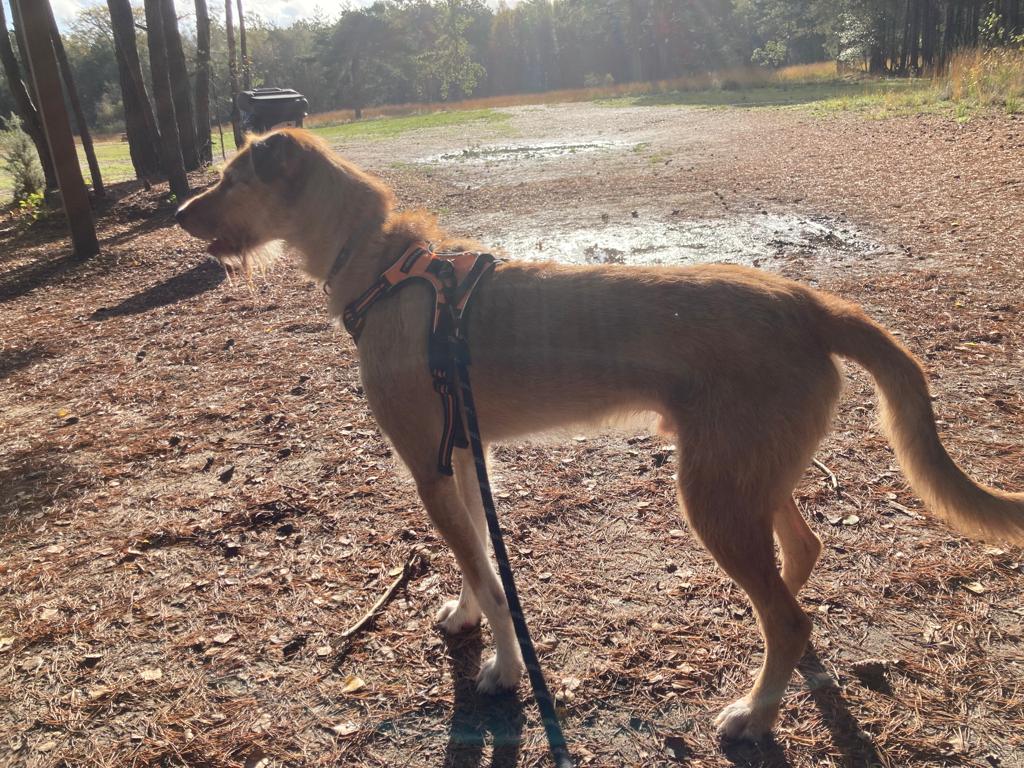 With other dogs, he is playful and social with both males and females, as long as they aren't too pushy and over the top. He isn't overly keen on very young, bouncy dogs, as he likes to play and then settle down, and they tend to not let him. For this reason we feel a home with either a social but calmer resident dog, or as an only dog, would be best for him. Please be aware that he hasn't and also can't be tested with cats or other small furries.
As a Podenco mix, Kinder adores being out in nature and exploring. He needs activity and stimulation to settle nicely at home, and this is a very important aspect of his daily routine. A short walk around the block will absolutely not satisfy this wonderful boy…he needs time to use his eyes and his nose and to move in nature. Consistent work will need to be done on his recall, as he can fixate on movement and small animals (squirrels/birds etc) and will then become very strong on the lead when trying to get to them. With a confident handler and lots of encouragement, Kinder can move on and continue his walk, but this is something that will need consistency and patience. Kinder isn't currently used to being let free on walks, due to his prey drive, so a nearby fenced area he can properly run in would be a huge bonus.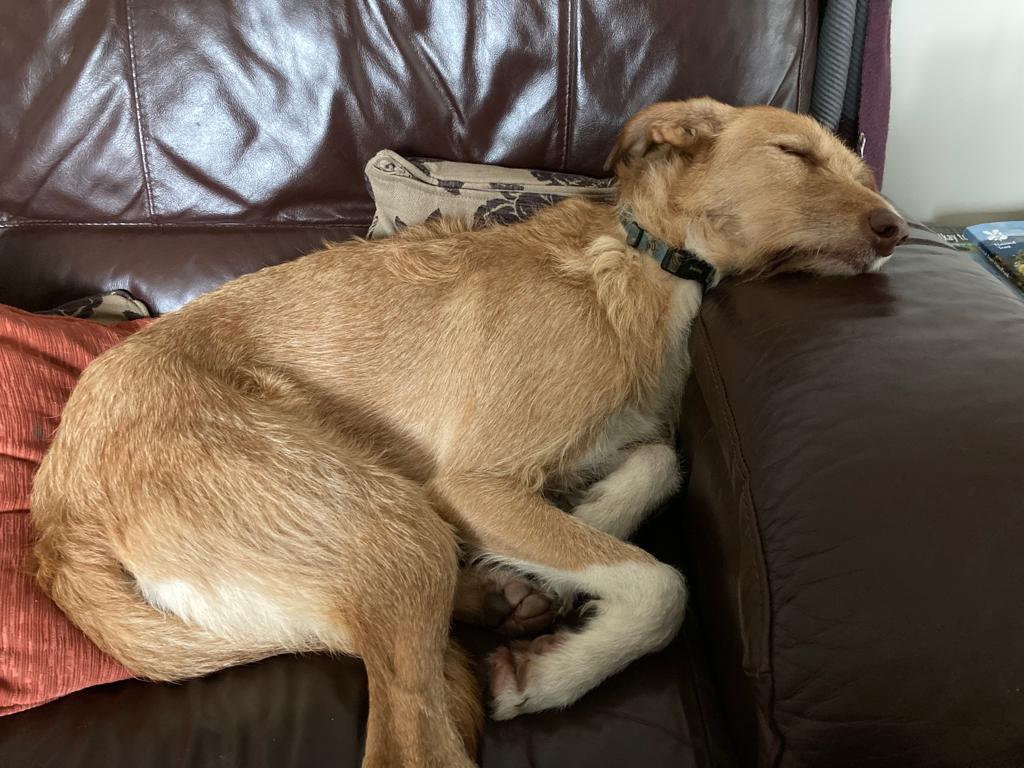 At home, he loves his food and snacks (even carrots!) and is housetrained. He can be left for short periods after gentle introductions to this, and provided he has had the exercise he needs beforehand.
Our fuzzy boy is, in some ways, a puppy in a big dog body. He needs his new home to show him boundaries and guidance, reassuring him when needed and providing the mix of activity and affection he deserves. He can get overexcited and jump up at people he's happy to see, and due to his size (27kg) we will consider homes with teenage (14+) children only.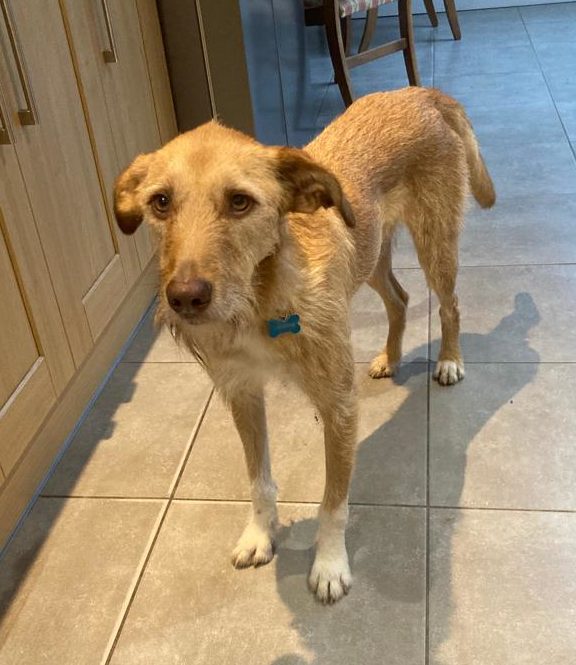 Do you feel you can give Kinder the forever home he desperately wants and deserves? In return, you will take home the most loving, affectionate and engaging boy – eager to learn and be taught new things, and to settle down into a home that will care for him for the rest of his days.
If you feel you can offer Kinder the home environment, training and affection he needs, please get in touch. We would love to hear from you. Please be aware that it's a requirment for his adoption is, that you are able to travel to Kinder's current place to meet and get to know him in person.