Lacey is a 3-4 year old female Collie Cross. She was rescued from a shelter in Romania and we took her on knowing she had suffered trauma in her life and had many fears. She has been a delight to foster and has been no trouble but has clearly been mistreated by men in the past. The man in the household would have to be prepared to work with her to be accepted and be patient as this will take some time.
Lacey is shy with women but much better and warms to them given time and patience. lacey can now be homed with men, as long as there is also a women in the home. She remains shy but will flourish in time. Out on a dog walk Lacey is a different dog. She loves to walk and walks beautifully on the lead, sometimes howling and whimpering in her excitement at being in the fresh air, for this reason her ideal forever home would be active and all female with another dog to help her gain confidence.
A child free home is essential as she is frightened by loud noises, although Lacey has proved herself to be well behaved with visiting children. The lucky adopters will need to understand that will need time to gain confidence and blossom, but they will be rewarded with a loving loyal dog.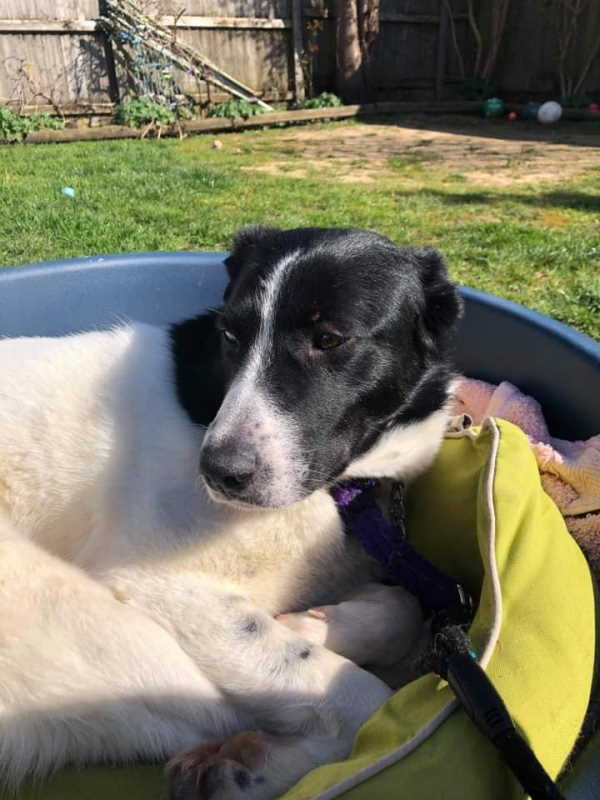 All dogs are vaccinated, microchipped and neutered (unless the dog is too young to be neutered).
If you are interested please message or call between 9am to 5pm Mon – Fri 9am to 4pm Sat.