This is the beautiful Smiler who is a 4 year old male Greyhound who landed in our care from a stray pound situation a couple of months ago. Since then he has been in kennels under going his castration etc that bless him wasn't as straight forward as both testicles were retained.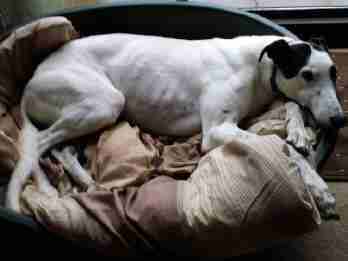 Smiler is now in foster care with two female Greyhounds both of whom he gets on well with. You have to meet this boy to believe him and on first meeting its easy to see exactly why we called him Smiler he has the goofiest grin and spends his time yanking his lips back and grinning away in sheer joy at any attention offered.
Smiler is a lovely gentle boy BUT is also quite bouncy when greeting you. He loves nothing more than to run and say hello when you return back to the house so you need to ignore him and go about your business.
Smiler walks well on the leash in the main and isnt too excitable when he see's smaller dogs but still needs to be muzzled and watched. He is NOT cat or smally furry friendly.
Smiler is clean in the house and great to be left with the company of another dog. We feel that if he were to be an only dog he really would need someone around all of the time and that it would take a long time for him to adjust so preferably a home with another hound would be best.
I'm not allowed to have favourites but I have to say that at the moment this lad just absolutely steals my heart away. He is so incessantly happy with life and just loves to love a real cuddle monster in the making. Smiler is castrated de flead, wormed vaccinated kennel cough vaccinated and microchipped he has also had a teeth clean.