Sensitive boy Spud is a 7 year old male Romanian Miriotic Sheepdog Cross who are known as a guardian breed in Romania. He has also had a sad past so we are looking for and experienced home with someone who has experience of larger dogs and can provide a quiet and stable home and not expect too much. He needs to be homed with a confident female dog to show him how to be a dog and get the most out of life. He's a bit lonely being the only dog and we think this will change his life and bring some spark to his life.
Spud can be a little protective and wary of some strangers and can be a little vocal. This would need to be worked on with positive reward based training. He needs to gain the trust of strangers before he lets them pet him. He generally ignore other dogs on walks. If a white dog is seen he is very interested and wants to engage.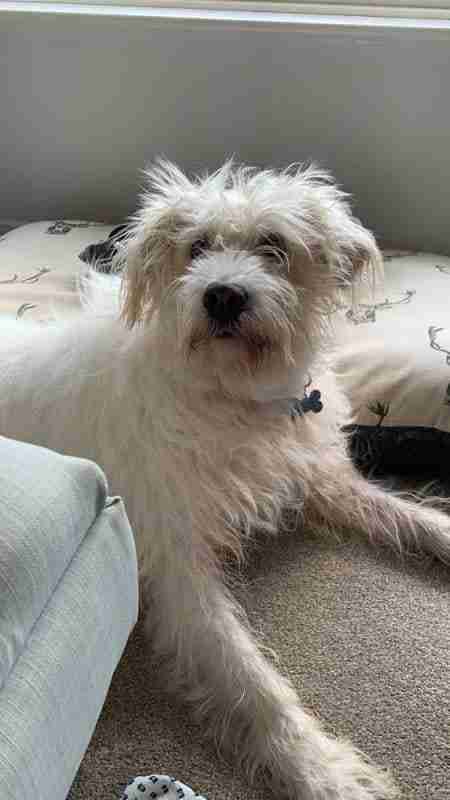 Spud can give a growl to some new dogs on walks, but this is something that can be worked on as Spud gains experience. He currently has a regular neighbors dog visiting (that dog has dementia) he doesn't bother with her in any way. When out on walks, he is positively interested in cats and wags tail. Spud is a bit of a lazy, and sensitive soul who isn't particularly interested in going for walks at the moment, but this could change once he's feeling more confident.
Spud didn't have the best life in Romania so grooming is a completely new (and sometimes scary) thing for him. Spud isn't keen on being groomed at the moment so he will need someone willing to work on this. Head and face not trimmed due to ear sensitivity and issue with recurrent ear infections. He needs to be muzzled for ear cleaning as he has some sensitivity there.
Spud is housetrained, but he does need to have a wee in the night so he would need a secure area where a little wee isn't an issue. He's a bit reluctant to be outside, for a dog that probably lived his whole life outside it's not surprising really!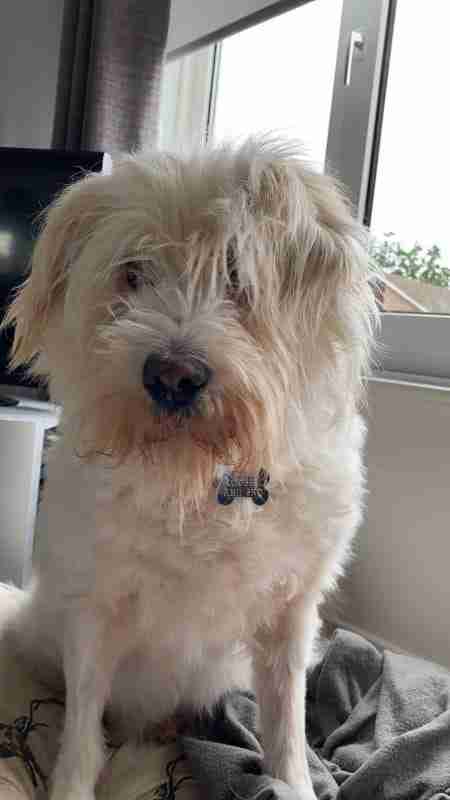 Spud is a lazy loveable lump who enjoys nothing more than lying around! He isn't keen on exercise or play with toys (quite common with Romanian dogs) but is treat oriented. Once he is bonded, Spud loves a head, ear and chin/neck starches and a belly rub. He can be a very large lap dog when he wants.
Spud is trained not to go upstairs and not on the furniture. He walks at a leisurely pace on the lead and to heel. He has learnt and will follow sit, paw, down, wait and walk on commands. He is currently living in Crawley.