Tom is a handsome 3 year old male Greyhound who came to the centre from racing kennels – although he wasn't quite fast enough to make it onto the track! He's a very friendly lad with everyone he meets and loves having lots of fuss and attention.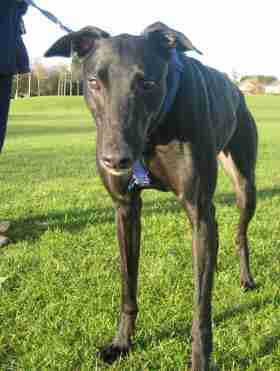 Contrary to popular belief greyhounds do not need loads of exercise, just two leadwalks a day and a chance to run off the lead in a safe enclosed garden. Tom is a lively character, he is very affectionate and will be a fun dog to own.
Tom will need owners who are around most of the time to gradually build him up to being left. He is social with other dogs but will need to be the only pet in his new home. He cannot be re-homed with or next door to cats but will happily live with children over 10 years old.
For further details regarding giving Tom a second chance and new home, please contact The Blue Cross animal adoption centre in Southampton on 023 8069 2894 or visit us at our Southampton centre: Bubb Lane, West End, Southampton SO20 2HL.