Coco is a 7 month old female Pointer Cross. Coco and her siblings were an unwanted litter and surrendered to a rescue in Cyprus before being rehomed through Underdog. Sadly, Coco's family just feel now is not the right time for them to dedicate enough time and training to her as they have a toddler with another baby on the way.
GREAT NEWS! This Dog Has Now Been Rehomed
Thanks to good people like yourself who use dogsblog.com on a daily basis, this dog has now found a new, permanent loving home. There are more dogs still looking though…

Allow us to find your new

PERFECT

canine friend with our

dogsblog.com matchmaker service

. Enter your details below to receive a tailored, hand-picked list of available dogs for adoption…
At present Coco is in foster in Hampshire, but can be rehomed to anywhere as long as the home is suitable for her needs. She has however had a great start in the UK.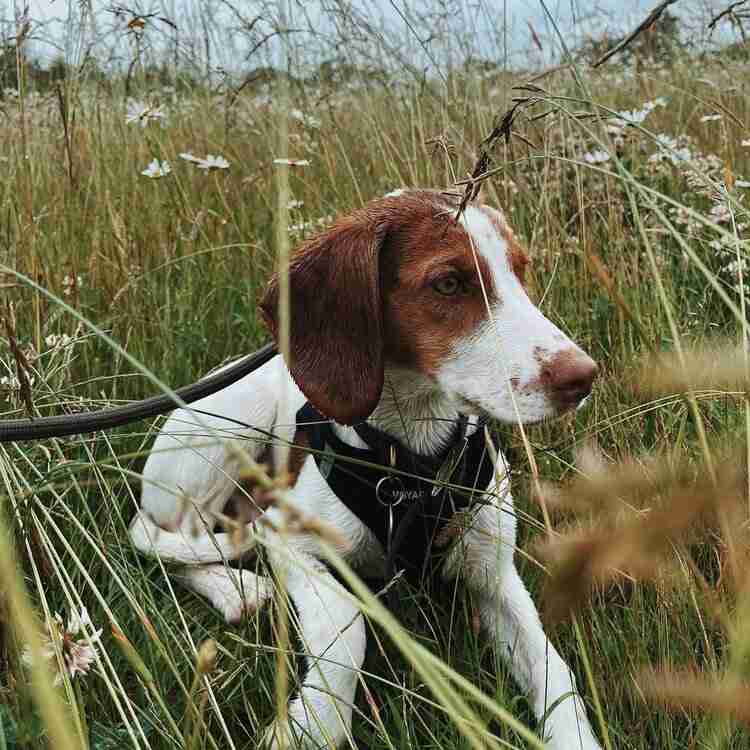 Coco is now around seven months old and has a wonderful temperament. She's a suspected Pointer/Spaniel mix and has an intelligent, active nature so is looking for a home in a semi-rural area with a garden. She needs lots of mental and physical stimulation, and could benefit from the company of another dog to play with.
Due to her breed mix she loves walks that give her the opportunity to sniff anything and everything and she could perhaps enjoy scenting classes (for fun, not work) to really give her an outlet for this behaviour. She also loves to paddle in streams/the sea, dig, hunt bugs and chew her array of treats (nylabones, chicken feet, toys, yak chews…)
Coco adores children and would be really happy in a home with slightly older kids who can play with her and won't be knocked over by the occasional jump up. She currently lives with a toddler and is very gentle with her when playing and taking treats.
She even knows where the neighbourhood kids live and will pull towards their houses on her walks in the hope of seeing them! She would be absolutely fine in a home with children.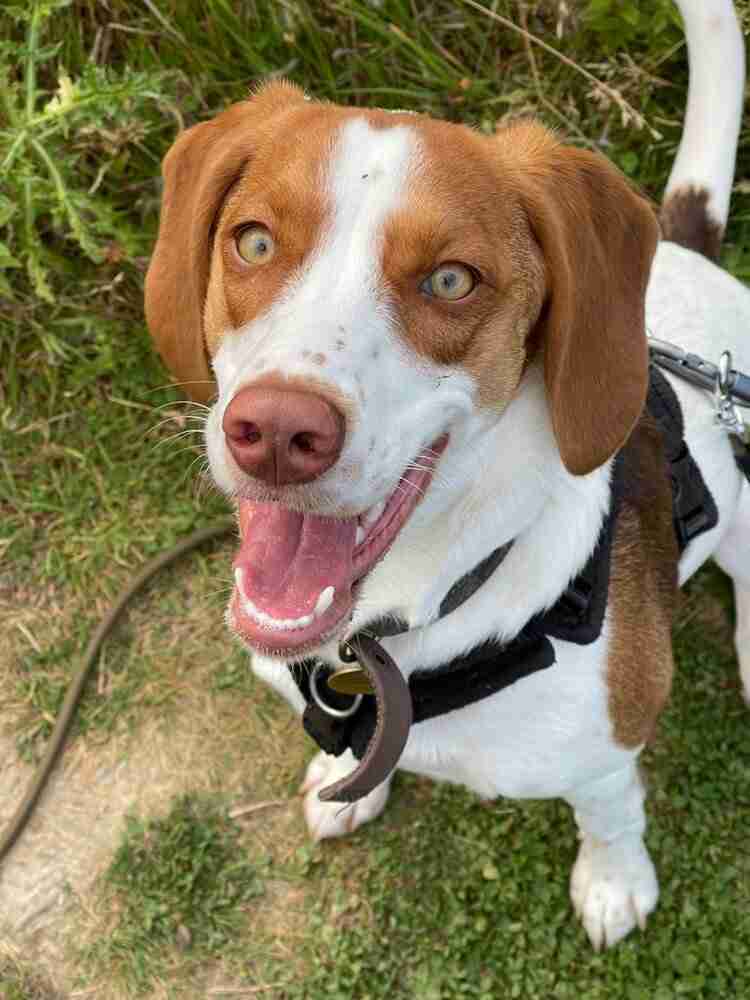 Coco grew up alongside her siblings and other rescues when in Cyprus, and has always been very sociable with dogs. When meeting new four legged friends on walks she is generally excitable but submissive, and keen to play. She's never shown any fear or aggression.
However, she thinks chasing cats is a game, so we're looking for a home without feline friends please! She is also very taken by anything with wings – flies, butterflies, birds – and she's very good at catching them.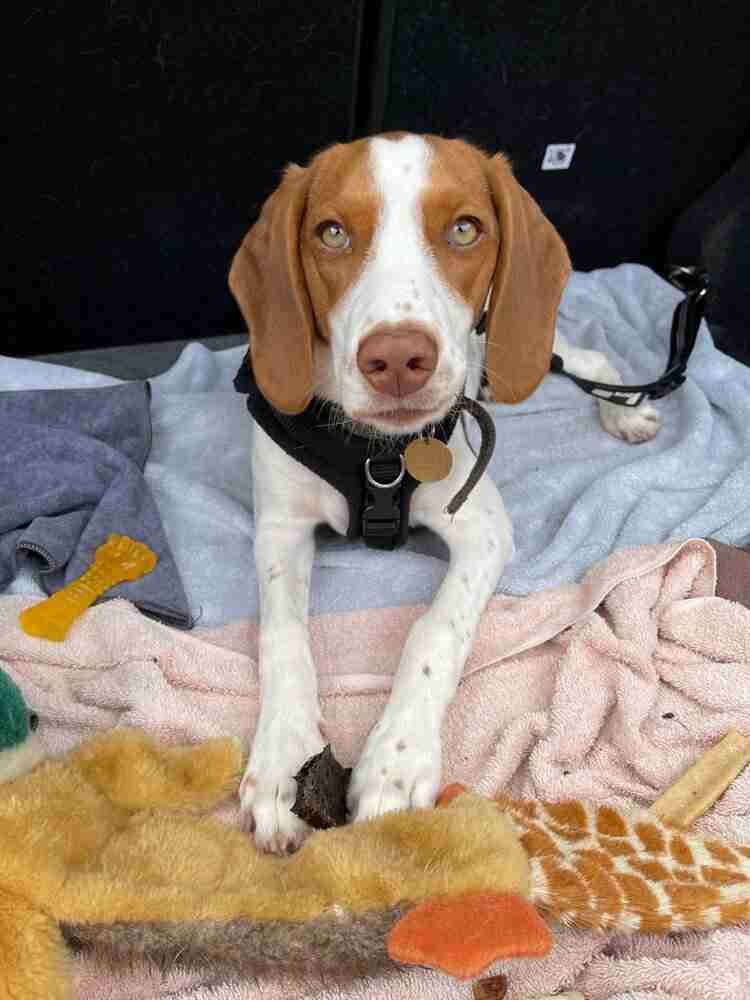 Coco is already housetrained and she can be left alone in the house as long as she's given some form of mental enrichment. She loves a stuffed Kong, a cardboard box filled with treats, or packaging paper to rip up. Because she's still a pup she will chew things she's not meant to if the opportunity is there.
She is also lead trained and getting better at not pulling, but as mentioned before she can get distracted by strong scents. She has wriggled out of her harness a few times to get to something that's caught her attention!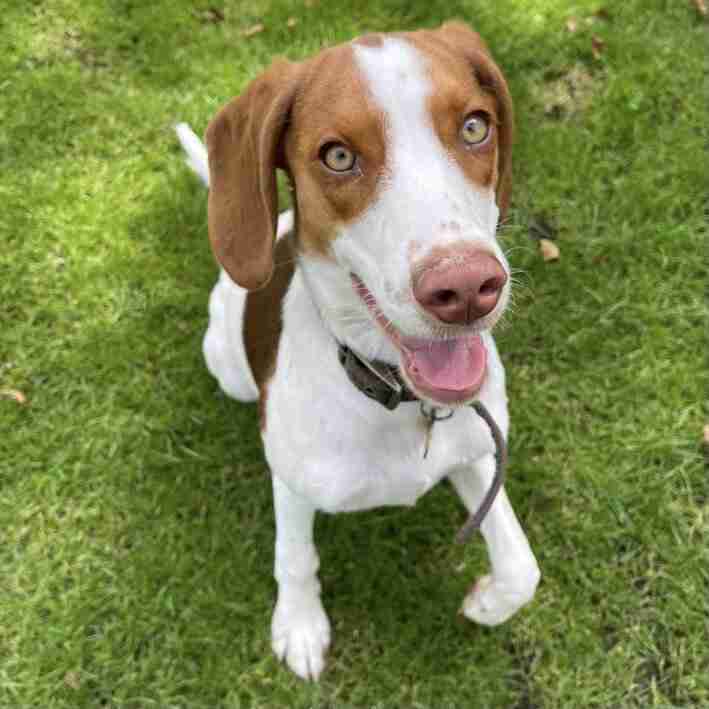 Coco is a fantastic dog and would be a wonderful addition to the right family. She would be at home in the countryside where she can track scents, dig and run to her hearts content. A big garden would be perfect for her, especially with a friend to play with. That said, Coco is also very affectionate, loving and friendly with people and will gladly roll over for a belly rub from anyone who'll offer her one. She loves to snuggle up with you on the sofa and won't ever object to being fussed over.
If you think Coco could be the perfect partner for your active lifestyle please get in touch.